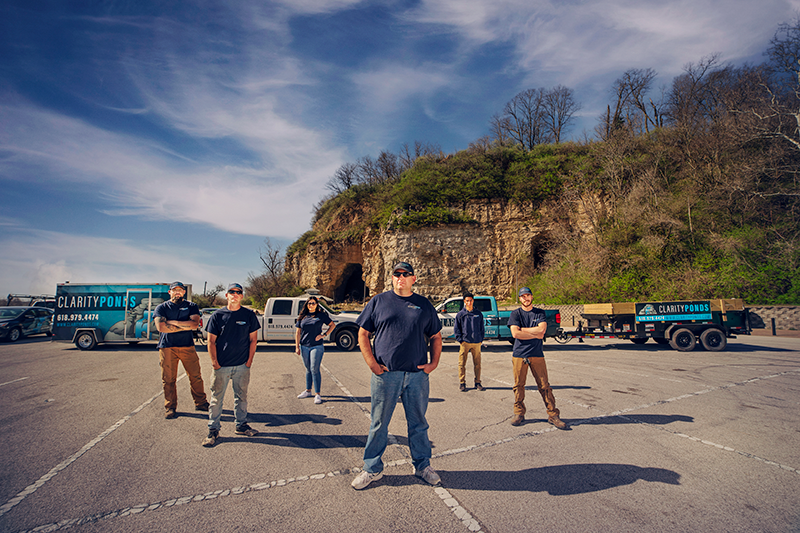 Become Part Of Our Water Features Building Company in the St. Louis Metro Area
Help us create natural water designs! Clarity Ponds is the premier designer and builder of ponds, streams, waterfalls, fountains, and water features in St. Louis and the Metro East.
No specific experience necessary.
Meet The Team
Clarity Ponds' team members stick around. Why? Because we are a great group of people who enjoy what we do. We work hard and play hard. Together, we build unique water feature creations, and you're likely to see us having fun outside of work too. If you want to spend time with friendly people, see the results of your hard work, and see smiles of happy customers, you'll fit right in.
Our team enjoys benefits such as a flexible schedule, Simple IRA, and more.
Clarity Ponds values loyalty. In return, you will feel seen, heard, and cared about. We are proud of our company and know you will be too.

Pond-ering Your Options?
We're looking for fun, hardworking, and driven individuals to work with us. You should join the Clarity Ponds team if:

You like an active workday and don't mind getting your hands dirty.

You prefer working outside in the fresh air and sunshine—not in a stuffy office.

You want to grow and learn new skills. On our team, you'll have plenty of opportunities for new challenges.

You take initiative but can also work well as part of a team.

You're interested in creating water features. This is our specialty and our passion, so we hope you'll love it, too.

Water You Waiting For? Apply Here.

Free Phone Consultations
Our team has a passion for helping people achieve their dream space that involves water, whatever it may be!
Your vision means as much to us as it does to you!

"On time and on budget, could not be happier!"

The crew was very professional, Clarity Ponds was able to incorporate all of our design ideas, and more, to take our project to the next level.  It was on time and on budget, could not be happier!