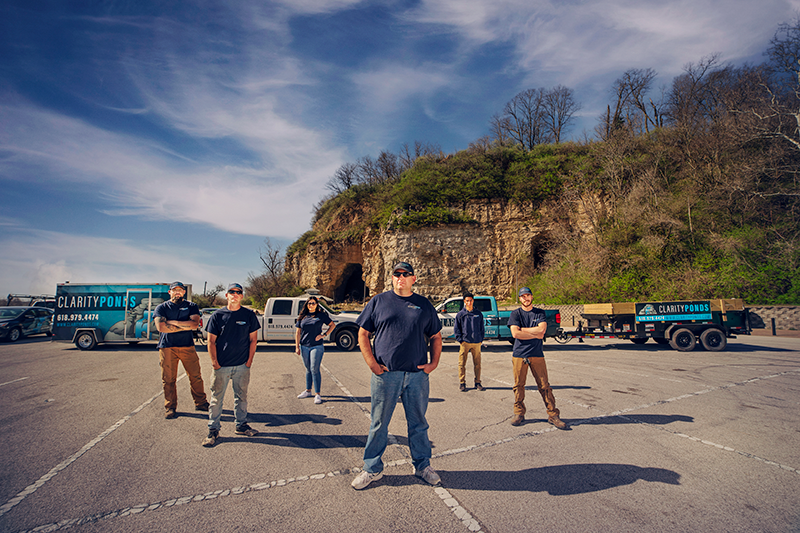 About Our Water Feature Building Company in the St. Louis Metro Area
When Josh Hetley was put in charge of maintaining the water garden on display at the local Garden Center, it was the start of a deep appreciation of the peace and tranquility that a water feature can bring. He was hooked, eventually building his dream pond and raising koi on his own property.
Fast forward to 2017—Josh founded Clarity Ponds in Highland, Illinois. His knowledge, skill, and passion made a big splash as he started to design and create both residential and commercial water features in St. Louis. Clarity Ponds specializes in one-of-a-kind, custom creations, using hand-chosen natural materials. Every project is unique, showcasing each client's distinctive style and personality. 
As Owner and Chief Creative Officer of Clarity Ponds, Josh works with a talented crew led by Construction Foreman KC Jones. Together, the team has one goal: to give clients the best possible experience and a water feature that will thrill them for years to come. 
Clarity's Process
At Clarity Ponds, we want to know what you think. Our relationship with our clients is a true collaboration. We take your vision, add clarity, and bring it to life in your backyard. We will share our knowledge with you so you can choose the pond, waterfall, or fountain that gives you the precise look, feeling, and atmosphere that you're hoping for.
We have a passion for helping people achieve their very own water-scape paradise.
Pond Builders in St. Louis
At Clarity Ponds, we value honesty, integrity, and trust. Every single member of our team is dedicated to providing you with the best products and highest standard of service.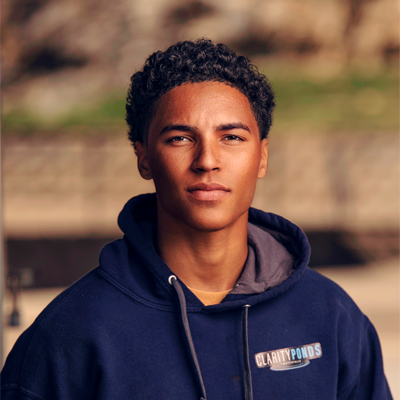 Xavier Noble
Landscape Construction Laborer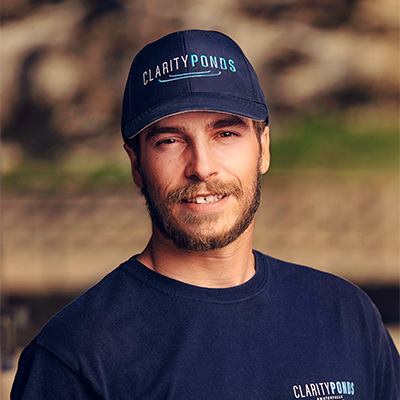 KC Jones
Landscape Construction Foreman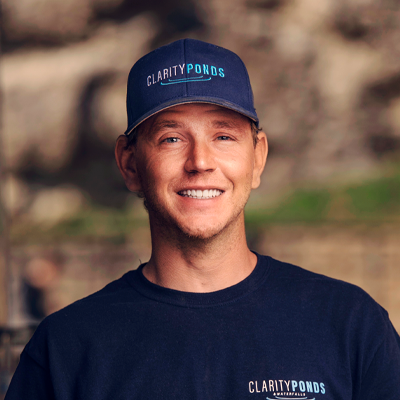 Mike Miller
Landscape Construction Laborer

Free Phone Consultations
618.979.4474
Our team has a passion for helping people achieve their dream space that involves water, whatever it may be!
Your vision means as much to us as it does to you!

"On time and on budget, could not be happier!"

The crew was very professional, Clarity Ponds was able to incorporate all of our design ideas, and more, to take our project to the next level.  It was on time and on budget, could not be happier!
"Very satisfied with both...creativity and performance!"

We are very satisfied with both the creativity and performance of Clarity Ponds!

They have done a few projects in our back yard, the workmanship is detailed and their design was unique.

The crew were professional and courteous, the jobs were completed on schedule. They always answered my phone calls. We highly recommended them.
"[T]his guy knows what he is doing!"

Josh Hetley was recommended by a lady in a local water garden club for pond maintenance. After seeing his ponds during a tour, I figured "this guy knows what he is doing". Since finding him he has done winterizing and based on the quality of his work, last year I hired him to install an improved filtration system. This year we discovered a root problem caused by a tree just before it had a chance to cause catastrophic damage. Even though the pond was rebuilt about 6 years ago, I had Josh rebuild the pond and I gave him carte blanch since I trusted him. Even though the pond is now in full sunlight there has been no algae problem. I am totally pleased with his work and his follow-up. I wish him success as he grows his business.
"[E]xactly what we envisioned."

We've had a koi pond for years. When we moved, we didn't want make the investment or give up a lot of real estate to build a brand-new one. Instead, we converted our unused swimming pool to hold koi, with plans to add a waterfall at one corner. My wife was not impressed with my DIY efforts to engineer a waterfall, so we called Clarity Ponds. We had known Josh for quite some time from the St. Louis Water Garden Society and more recently the Gateway Koi and Pond Club. We had seen his work and really liked it. He listened to our ideas and worked with us on the plan. I wanted to tie into the plumbing we already had and connect external underwater piping to the pool jets. That isn't something common, but he was willing and able to make it work. We now have a waterfall and koi pond that is exactly what we envisioned.
I contacted Clarity Ponds for an estimate to add some boulders to our existing water features. We have 4 ponds with falls etc, that we've built over the last 16 years and they needed a "little help". What a difference! They spent 2 days arranging, rearranging and meticulously placing dozens of large rocks into the existing landscape. We had the option to tell them what we wanted, but that wasn't necessary. Fair priced and very responsive and knowledgeable about ponds and plants. Great folks to work with. Highly recommend this company.
Dave Schumacher
2022-07-19
Clarity Ponds recently completed a water feature for me. It turned out nicer than I anticipated. They did a wonderful job and completed it in a very timely manner. All the workers were very professional and helpful with suggestions. When the project was completed, they cleaned up the area, one could not even tell they had been there. I would highly recommend Clarity Pond for any water feature work that you would like to have.
Eric Nordstrom
2022-07-13
I had the pleasure of meeting their sales rep. Ana, at a Koi show. I knew right away this was "The" company to build my dream waterfall. Now that its complete, I can't express enough how impressed I am with Josh and his crew. (They worked in 100+ degree temps!) My only design constraint was to create a natural looking waterfall. I confidently let their artistic talent run free! Needless to say, they exceeded my expectations. They were always on time, professional and kept the work place clean. They were very careful not to disturb the yard surrounding the project. At Josh's suggestion, he added beautiful lighting. An unplanned expense but money well spent! At night the lighting transforms the falls into something magical...straight out of Disneyland. If you're in the St Louis area ask Clarity Ponds for my address. Feel free to come out and look at their masterpiece. Looking forward to another project with Clarity Ponds!!!!
Douglas Holtzmann
2022-07-11
Wow. Josh and his crew are so creative. The young bucks on his team are HARD workers. If you need a water feature, these are your guys. Innovative, creative and went beyond our expectations. Our grandkids love the fish. Tnx Team Clarity
Awesome place to work!
super happy and impressed with the professionalism and attention to detail.
Cathy Palomino
2021-11-12
Five stars!!!!
Great company, great experience! We are thrilled with our waterfall and slide added this summer to our pool. Clarity Ponds' entire staff has been nothing but professional and easy to work with. The guys work hard and show up to get the job done. We couldn't be happier with our backyard project!